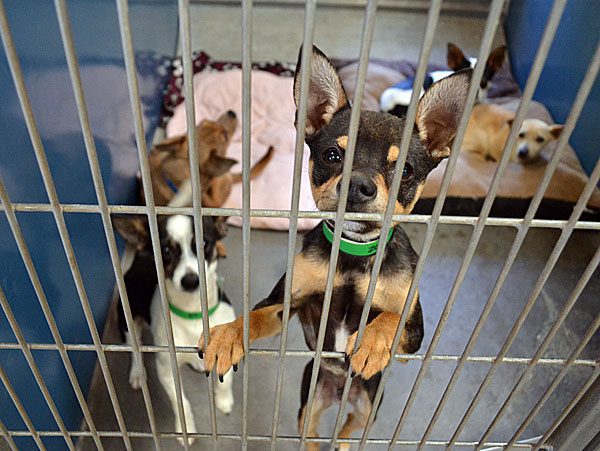 "if you see a cute chihuahua puppy in a pet store window, don't buy it!"
chihuahuas sold at pet stores come from puppy mills!
that's right, we all know about the horrific conditions of puppy mills and how they are the homes of unregulated dog breeding owned by shady breeders, but many people who are in support of banishing puppy mills and people who simply want to purchase a chihuahua puppy don't even know that most pet store puppies come from puppy mills!
if you are reading this and you did buy your chihuahua from the pet store, don't fret.  feel good that you saved a life and consider yourself an amazing person, but please keep the following points in mind if you are going to buy another.
health problems
now that you know pet store puppies come from puppy mills, it's no surprise that chihuahuas bought from pet stores are going to have health issues.  pet store chihuahuas are poorly cared for and their parents are not screened for genetic diseases that can be passed onto their offspring.  common chihuahua health problems include eye problems, teeth problems, genetic deformities, neurological problems, blood disorders and others.
behavioral problems
due to a lack of care and thoughtless breeding practices, behavioral problems are inevitable.  puppy mill breeders don't take the time to ensure potential behavioral issues are weeded out and staff at pet stores aren't trained to deal with behavioral issues so it they then becomes habitual.
housebreaking havoc
chihuahua puppies that are always kept in cages never learn to go to the bathroom away from their food or bed.  this can make housebreaking a pet store chihuahua very challenging and burdensome.  good chihuahua breeders make a point of keeping their puppies in a space that's very clean and then also provides them with a separate area to eliminate.
poor socialization
puppies that are not handled by people by around three weeks of age will not socialize well.  most puppy mill breeders sell their pups to pet stores at far too young of an age, often at only four or five weeks old whereas reputable chihuahua breeders wait until their puppies are at least 10 weeks old giving them plenty of time to socialize with other siblings in their litter.
breaking the standard
what you see isn't necessarily what you get.  pet stores ignore akc chihuahua breed standards, guidelines that describe the ideal characteristics, temperament and color and markings of the chihuahua breed.  you might think you're paying for a genuine pure-bred chihuahua puppy with AKC papers, but even if the papers are legitimate, the puppy could still be a bad representative of its breed.  as the puppy grows, you might be surprised to discover your chihuahua has a little bit of terrier, poodle or jack russell in it.
shortage of information
a good chihuahua breeder is full of information and can tell you all about your puppies family ancestry and specifics like: if they are an apple head or deerhead chihuahua, a blue chihuahua or even a merle chihuahua.  pet store staff are not chihauhua experts.   you will get very little information regarding behavioral issues or potential health problems if you buy your chihuahua from a pet store.
little value for what you pay
pet store chihuahuas cost a pretty penny ranging anywhere from $200 to $3,000 without after purchase support.  there are no laws to protect your purchase from a pet store, but a reputable breeder guarantees you after care support.  this is very helpful for many new chihuahua owners.
euthanization
if you bring back a pet store chihuahua, they are likely to be euthanized once returned.  most reputable chihuahua breeders care about each of their puppies' futures and will be concerned about their welfare, so if a problem arises where the puppy must be returned, rest assured, it will go back to a loving and caring environment.
so if see an adorable chihuahua puppy in the window of a pet store, remember that you are supporting the horrible practice of puppy mills if you buy it and you are likely to end up with a sick chihuahua.  instead, lead by example and find a reputable breeder.  better yet, save a life and adopt your chihuahua from a local shelter, chihuahua-specific rescue or from a credible puppy mill rescue organization like the national mill dog rescue.
"teddy and harley, both puppy mill survivors fighting to stop puppy mill breeding!"
support the anti-puppy mill movement and help spread this informative article by linking to it at http://www.famouschihuahua.com/chihuahua-facts/reasons-to-never-buy-pet-store-chihuahua/
reference: dogster.com/puppies/pet-store-puppies