we are no longer accepting picture submissions for this contest! check back tomorrow on tuesday, august 15th to see who the top 10 chihuahuas are and to vote for the chihuahua you want to win!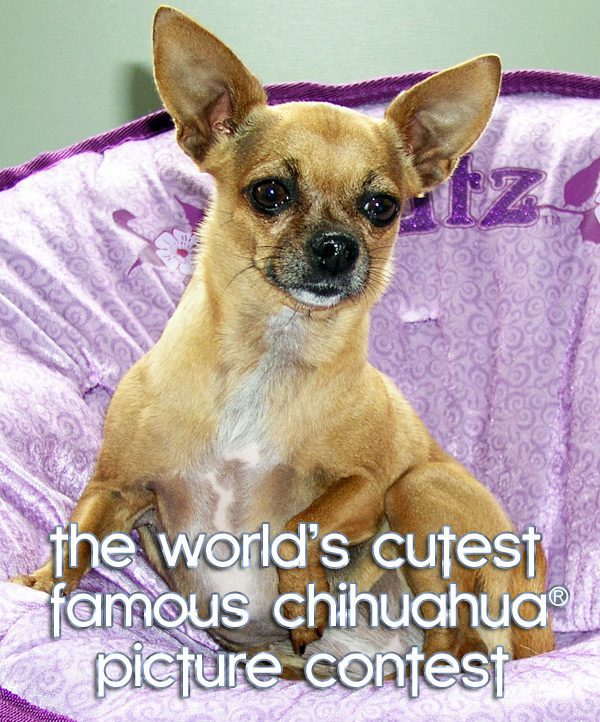 instructions on how to enter:
1.  have your chihuahua sit pretty and take a cute picture!
2.  visit the famous chihuahua store and find the item code number for "the pink satin & hearts chiffon harness dress, lead & hat" (see image below).

3.  attach your chihuahua picture to an email, send it to [email protected]
please include the following information:
the name of your chihuahua
your first and last name
your mailing address
why you think your chihuahua should win
the item code for the pink satin & hearts chiffon harness dress, lead & hat

(don't forget this!)



(the next two requirements are optional, but greater your chances of winning!)
4. 
the famous chihuahua facebook page and post your chihuahua picture with the hashtag #cutestchihuahuacontest
5.  sign up for our newsletter for the latest contest updates!
the grand prizes!

a new chihuahua wardrobe!  a boy or girl luxury gift box hamper for dogs!
a famous chihuahua® dog shirt!  (customized for your pup)
a copy of the book, caring for chihuahuas made easy!
this contest starts on june 23rd.  submissions will be accepted until sunday, august 11th.  10 lucky chihuahuas will be selected for our top 10 voting poll and the winner will be announced two weeks after.
view our previous winners!
follow famous chihuahua®