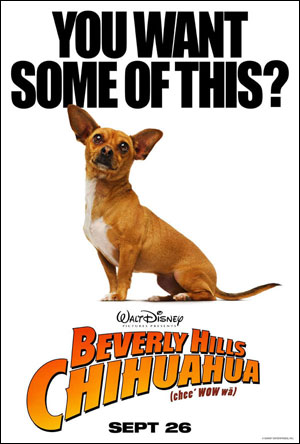 the disney movie, beverly hills chihuahua, has fast become a major topic for discussion among chihuahua lovers worldwide. do you have an opinion on this movie? what's all the controversy about? is paris hilton's chihuahua the real beverly hills chihuahua? ..or is this chihuahua movie a disney masterpiece from start to end? read what people are saying in the famous chihuahua message board and forums page.
this controversial walt disney live-action adventure comedy stars piper perabo, manolo cardona and jamie lee curtis and features the voices of andy garcia, placido domingo, george lopez, salma hayek, edward james olmos, paul rodriguez, cheech marin, piolín, and drew barrymore.
storyline: a pampered beverly hills chihuahua named chloe (voice of drew barrymore) finds herself accidentally lost in the mean streets of mexico without a day spa or rodeo drive boutique anywhere in sight.