your chihuahua can not explain its symptoms, so it's your responsibility to keep him or her healthy and to determine whether or not they need veterinary care.  chihuahuas tend to want to hide their illness, so it is up to you to check your chihuahua for abnormalities.
not knowing if your chihuahua is feeling sick or how to care for your chihuahua when they are sick can be VERY stressful!  this article will help you determine if your chihuahua is showing signs and symptoms of being ill and when you need to take them to see a veterinarian.
the book caring for chihuahuas made easy gives you preventative measures and solutions to common Chihuahua health problems.  "if your chihuahua is sick or you want to know what to do to keep it from getting sick, then this is an absolute must-read book!"

be prepared: questions your veterinarian may ask
your veterinarian may ask additional questions to help localize or diagnose the problem.  it may help to be prepared to answer some of the following questions:
how long have you owned your chihuahua?
where did you get your chihuahua (adoption center, breeder, previous stray)?
what other type of pets do you have?
what is the age of your chihuahua?
has your chihuahua experienced any previous illnesses?
is your chihuahua currently under treatment for an illness or disease?
what preventative medications is your chihuahua currently taking?
does your chihuahua receive consistent flea treatment?
are any other pets ill?
has he/she been vaccinated? if so, when? which vaccines?
have there been any recent pet acquisitions?
have there been any recent activities such as boarding, grooming, trip to the park?
is a majority of your chihuahua's time spent indoors or outdoors?
have there been any recent changes in diet or eating habits?
what brand of food, how much and how frequently does your chihuahua eat?
what type of table scraps are offered and how frequently?
what type of treats are offered and how frequently?
how much water does your chihuahua typically drink per day?
have there been any recent changes in water consumption?
have you noticed any coughing or sneezing?
have you noticed any lumps or bumps on your chihuahua?
is your chihuahua urinating normally?
Is your dog having normal bowel movements?
when is the last time he/she had a bowel movement?
have you noticed any recent weight loss or weight gain?
after answering some general questions, more specific questions need to be answered.  a brief cursory exam of your chihuahua at home can help you determine the answers.  these questions are also commonly asked when chihuahua owners are seeking help over the phone.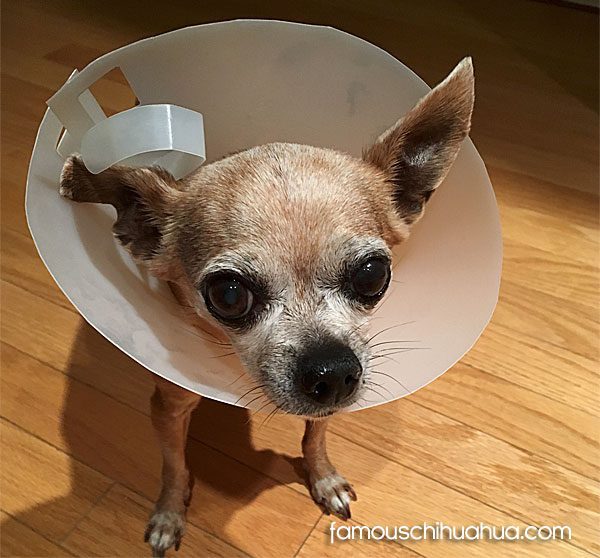 be prepared to answer the following questions, depending on the problem with your chihuahua:
regarding the eyes
have you noticed an increase or decrease in tear production?
do the eyes appear cloudy or red?
have you noticed any discharge coming from the eyes?
do the eyes appear bloodshot?
are the pupils the same size in both eyes?
have you noticed your chihuahua rubbing or pawing at the eyes?
is your chihuahua squinting?
do the eyes appear to be sunken or excessively protruding?