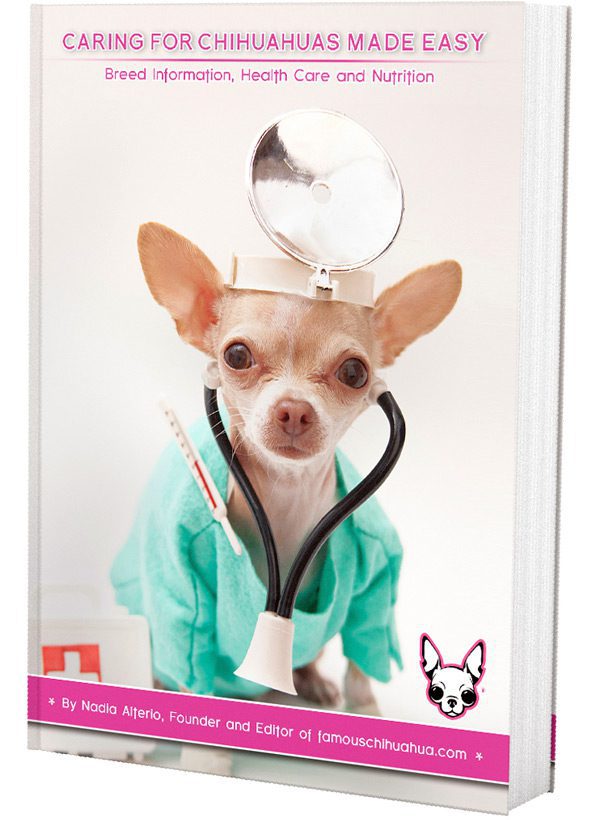 If there were one absolute must-read book on Chihuahuas, this is it!  This book answers all your questions about owning and caring for a Chihuahua!
"At Last…  A Book That Makes Caring For Your Chihuahua Easy!"
Examples of the many important questions answered with this amazing book:
Is a Chihuahua the right dog for you?
What do I need to know if I want to breed or show my Chihuahua?
Should I get my Chihuahua from a pet store? Breeder? Or a rescue shelter?
What is the difference between an applehead Chihuahua and a deerhead Chihuahua?
Are teacup Chihuahuas real?
What makes Blue Chihuahuas and Merle Chihuahuas different from other Chihuahuas?
How can I tell if my Chihuahua is sick?
What are the most common health issues in the Chihuahua breed?
What should I feed my Chihuahua?
What food should I avoid giving to my Chihuahua?
… and much more!
"If you want a simple read on how to care for your Chihuahua, this book has the answers!"
Examples of important topics covered:
The kind of environments Chihuahuas are best suited for
Chihuahua breeding standards, colors and markings.
The different types of Chihuahuas.
Health concerns to look out for:  patellar luxation, dry eye, reverse sneezing, tracheal collapse, joint problems, paw care and more!
How to extend your Chihuahua's life by doing two simple things!
Signs and symptoms to look for if you think your Chihuahua is sick and needs to see the Veterinarian!
How to keep your Chihuahua's fur coat looking super healthy and shiny!
The best way to protect your Chihuahua's delicate trachea!
… and much more!
"You won't be disappointed with how easy this book is to read!"
View sample pages.
Click on pages for close up.
"If you love Chihuahuas, then you must have this book!"
There's no waiting for the book to arrive in the mail or worrying about it getting damaged!  No shipping or handling fees are required!
All you need to read this wonderful book is the FREE PDF File Download Software called Adobe Reader.  It works with all computers and mobile devises and allows you to print the book out.
ONLY $19.99 US

Please Note: Your book will arrive via email after ordering.  You must have a working email address to receive the ebook.  Please email editor @ famouschihuahua.com if you need assistance.

Testimonials
"There is no other Chihuahua care book that's as fun and simple to read and as informative as this one! Awesome Pictures throughout! A must buy for every new Chihuahua owner!"
~ Beverly Hudson from Austin, Texas.
"Loved the beautiful illustrations and pictures. The book was so informative. I really enjoyed reading it. I just got a Chihuahua and I learned so many new things about these beautiful little creatures!  I love this book!"
~ Jerico Rodrigas from Santa Fe, New Mexico.
"A truly enlightened approach to raising and caring for your Chihuahua!"
~ Casey Robbins from Manchester, New York.
"A wonderful book for people who have Chihuahuas. I recommend it without reservation!"
~ Simone Galloway from Dublin, Ireland.
"Thank you Nadia for writing such an informative book!  You really do know the Chihuahua breed and what Chihuahua Owners can expect if they get one! :)"
~ Ainsley Thompson from Croydon, London.
"Inside this eBook, you'll find easy to read tips on how to care for your Chihuahua.  This book is geared toward the Chihuahua owner who wants to have a good understanding of the breed and know what to do should any type of health issue or problem arise.  Highly recommended."

~ Mike Crosworth from Columbus, Ohio.
"Great, Informative Book!  I put this one on my favorites list!  Thanks for this wonderful book on Chihuahuas, it was definitely worth it!
~ Jaime Ainsley from Toronto, Canada.
"Everything you need to know about how to take proper care of your chihuahua.  After reading this book from Nadia, I feel I know a lot more about these little cuties… and the tip about where not to buy one was shocking.  Nadia knows her stuff and her love for this breed comes through every page.  Highly recommended for chihuahua lovers worldwide, and even those who are considering getting one.  Thanks Nadia!"
~ P. Koning from Kelowna, B.C., Canada
"This book is first class, very comprehensive and informative and also a good read, well done."
~ Denis Kelly from UrbanPup.com
About the Author
Nadia Alterio is the Editor and Founder of FamousChihuahua.com, a fun and informative website that features Chihuahuas and offers helpful Chihuahua information.  She is also the owner of a very happy and healthy 16 year old Chihuahua named Teaka.  In 2011, she founded International Chihuahua Appreciation Day celebrated on May 14th by Chihuahua lovers worldwide.
For years, Chihuahuas have been a part of Nadia's family, which has allowed for Nadia to gain an immense amount of knowledge of the breed while working with many veterinarians and pet professionals along the way.
As a former professional athlete, Miss British Columbia, Psychology Graduate, Online Marketer Extraordinaire and loving mother of a beautiful boy, Nadia's life journey has been nothing short of incredible.  She currently lives in beautiful British Columbia, Canada, where she runs Famous Chihuahua® and is a proud representative of her Italian heritage.
*Important Note
The content of this book is for general informational purposes only.  It is not meant to be a definitive guide for medical care.  If your Chihuahua has a health condition that needs attention, please bring it to your veterinarian immediately.