your chihuahua can not explain its symptoms, so it's your responsibility to keep him or her healthy and to determine whether or not they need veterinary care.  chihuahuas tend to want to hide their illness, so it is up to you to check your chihuahua for abnormalities.
it is a good idea to learn simple health tips that could potentially save your chihuahua's life in an emergency.  this is a must for any chihuahua owner.  the ebook, caring for your chihuahua made easy, contains helpful chihuahua care information as well as valuable information for new chihuahua buyers and chihuahua owners unsure of how to care for their chihuahua.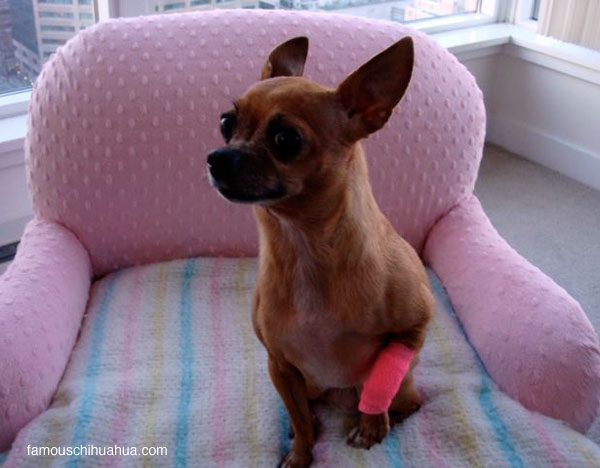 some indications of a "sick chihuahua" include:
be prepared: questions your veterinarian may ask
your veterinarian may ask additional questions to help localize or diagnose the problem. it may help to be prepared to answer some of the following questions:
after answering some general questions, more specific questions need to be answered. a brief cursory exam of your chihuahua at home can help you determine the answers. these questions are also commonly asked when chihuahua owners are seeking help over the phone.
be prepared to answer the following questions, depending on the problem with your chihuahua:
regarding the eyes
regarding the ears
regarding the nose
regarding the mouth
looking inside the mouth
regarding the chest
find out how to check your chihuahua's heartbeat in caring for your chihuahua made easy
regarding the abdomen/stomach area
regarding the urinary and reproductive systems
regarding the musculoskeletal system – bones and joints
by supplying the answers to these questions, your veterinarian will be in a much better position to help your chihuahua.  additional tests may be necessary to find out what the problem is, but the answers to the above questions can greatly narrow the area of concern.
please note that famous chihuahua is providing this information to chihuahua owners as a guide so you know when to take your chihuahua to see your veterinarian.
famous chihuahua® would like to encourage chihuahua owners to read the eBook, caring for your chihuahua made easy: breed information, health care and nutriton, and as a rule of thumb: if at any time your chihuahua is showing signs or symptoms of illness and discomfort, don't wait, go the vet!
stay informed! sign up for the famous chihuahua newsletter!
related: chihuahua health problems