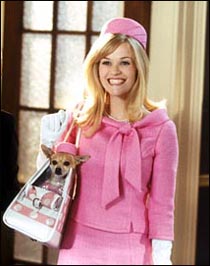 some say it started with the taco bell dog. a five hundred million dollar ad campaign featured a talking chihuahua which continually repeated the slogan, "yo quiero taco bell," which is spanish for "i want taco bell." then came the legally blond films and the unstoppable bruiser. the topping on the cake was when paris hilton appeared on the cover of seventeen magazine and later tried living the simple life on fox tv with tinkerbell, her pet chihuahua.
celebrities have discovered what many pet owners already knew: chihuahuas are the best dogs to own and care for. in the process, they've set off a chihuahua craze that is reaching towering proportions.
When most people think of Celebrities and their toy dogs, Yorkshire Terriers, Toy Poodles, Pekinese, Lhasas and Shih Tzus usually come to mind. That's because famous folks like Audrey Hepburn, Zsa Zsa Gabor and Mia Farrow were regularly photographed with their beloved pets. In Audrey's case, it was a Yorkie. In her early days of fame, Mia Farrow was rarely seen out in public without her Lhasa. Zsa Zsa and Eva Gabor loved to walk through the hot spots of Beverly Hills and be photographed with a multitude of Toy Poodles, Pekinese and Shih Tzus. But times have changed!
The always innovative Madonna may have set the standard for change not long ago when she sported her beloved Chihuahua, Chiquita, for a press photo op. Noah Wyle, one of the hot stars of ER, was recently photographed with his Chihuahua while on holiday. Jennifer Lopez has also joined the exclusive club of famous Chihuahua owners. Younger celebrities like Hilary Duff, Paris Hilton, Christina Ricci and Reese Witherspoon have found themselves attracted to these fabulous canines and brought a huge amount of attention to them.
Chihuahuas make great pets because they are very low maintenance, the world's smallest dogs and longest lived breed. Celebs love the fact that Chihuahuas prefer the company of humans more then they enjoy being with other animals and can easily accompany their owners everywhere. Chihuahuas love to be held or carried around in their very own shoulder bag and that makes them especially attractive to busy celebrities and people who are always on the move.
Unlike most toy dog breeds, the Chihuahua is not a created one. The first widespread mention of Chihuahuas occurred during the mid to late 1800's in weekly or monthly tabloids that specialized in tales of the American West. Highly fictionalized accounts of the small dogs spread by these publications claimed they were actually a mix of rodent and canine or had been magically created by Medicine Men. In reality, Chihuahuas were first noticed along the Arizona-Mexico border by settlers, ranchers and those passing through. This lead to the animals becoming originally-known as Arizona Dogs. Once it began obvious that these cute little dogs were actually coming out of the Chihuahua region of Mexico where they had been discovered in the early 1800's, the regional name stuck.
For the first time ever this past year, Chihuahuas have made the top ten list of most registered or licensed dogs in many areas of the USA. There can be no doubt that part of their popularity comes from the media exposure the breed has received and the fact that big-name celebrities are favoring the breed. But it also has to do with the fact that Chihuahuas are small, very easy to care for and live a long time.
Most Chihuahuas eat dry dog food and feed once every couple of hours or as their hunger moves them. A small, full bowl of dry food and dish of water easily gets them through an entire day. Chihuahuas are known for being healthy, hearty dogs that do well in virtually any situation. They can easily deal with temperatures of forty to ninety degrees Fahrenheit. When it gets a bit too chilly, doggie clothes solve the problem. When it gets too hot, Chihuahuas are always happy to enjoy their owner's air conditioning. Most have few health issues and live from fifteen to nineteen years of age, with an average lifespan of sixteen years.
Those wanting to breed Chihuahuas are often surprised to find that they can give birth up to twice a year, normally have from one to five puppies and take just sixty-five days to give birth. Few have problem births and the survival rate of pups is very high compared to other toy breeds. Chihuahua puppies are ready to be adopted by eight weeks.
Because celebrities are constantly exposed to new situations and always on the go, they can appreciate the fact that most Chihuahuas tend to attach themselves emotionally to one person or family and rarely bolt if given the opportunity. All Chihuahua owners appreciate the intelligence of the breed. They are very easy to train and adjust well to change. In areas where it's legal, Chihuahuas walk obediently near their owners without a leash.
Chihuahuas come from the same parent breed of dogs that Chinese Cresteds, Mexican Hairless Dogs and Xolos do. These are known to be the most ancient of all dog breeds still existing today. Drawings of what appear to be Chihuahuas are found throughout the world, some being thousands of years old. This makes us wonder when and where the Breed actually originated? Most Chihuahuas are either shorthair or longhair, come in an amazing variety of colors and purebreds tend to weigh from under a pound to no more then six pounds fully grown.
As Chihuahuas are featured in more and more films, television shows and become the beloved pets of an ever growing list of the rich and famous, we should all remember that they are more then just the hot breed of the moment. Chihuahuas are great pets that are very loyal to their owners.