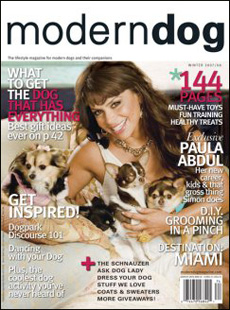 Paula Abdul with her four chihuahuas
Cover Modern Dog Magazine
Actress Paula Abdul and her four Chihuahuas, Chomps, Thumbelina, Tulip & Bessie Moo, land the cover of Modern Dog Magazine's latest winter 2007/08 issue. In an exclusive article, Paula speaks openly about her new career, kids and that gross thing Simon does.
It wasn't too long ago that celebrity dog owner Paula Abdul, in an effort to avoid stepping on her chihuahua Tulip, ended up tripping and breaking her nose.
These days however, famous chihuahua is happy to report that Paula's nose is 100 percent back to normal and she is happy as ever.
Follow Famous Chihuahua on Istagram