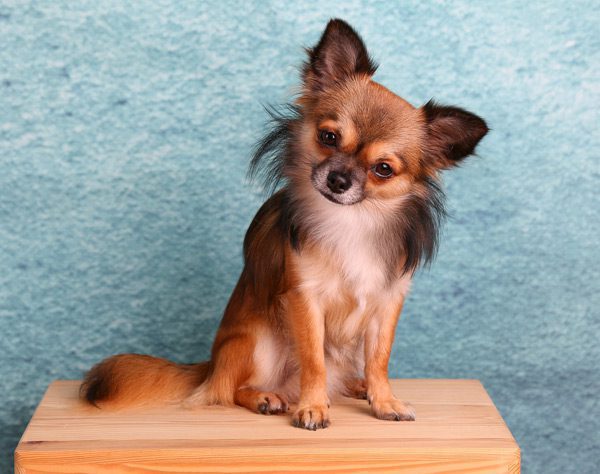 "look everyone, i'm famous!"
frank is two years old, and while he's super cute, he's also a sturdy little guy!
when my girlfriend suggested getting a chihuahua, i wasn't sure as i've been used to big dogs my whole life.  after some persuading, i went along to meet a litter of chihuahuas that a trusted local breeder had advertised for sale.
as soon as we walked in, frank walked up confidently to me and looked me straight in the eye.  the breeder said "he likes you" and she encouraged me to pick him up.  from that moment on, i was a chihuahua guy!
here are a few things frank loves…
frank's love of chicken
he was tiny when we got him at 11 weeks old– just 10 ounces!  now he weighs in at a healthy 6lbs, with not a bit a fat on him.  what's his secret? well, I think it must have something to do with his diet…
we had trouble finding something that he liked at first.  he didn't like the beef kibble we bought him, or the wet lamb food we tried.  the only thing he seemed to like were the webbox chicken chips treats we gave him.  then we tried chicken breast and he lapped it up – then we knew the problem – frank was all about the chicken!
after we discovered frank's undying love of chicken, we started to experiment with ways to convince our little dude to vary his diet a little bit.  the secret with frank is to cover his kibble in chicken broth.  we made sure we stirred it in well so that the kibble tasted of fresh, high-quality poultry.
frank loves kids
i've read a lot of stuff on the internet that says chihuahuas aren't great with kids.  but we now have a one-year-old baby boy and frank absolutely adores him!  frank is gentle and loving with our newer arrival, but it helps that our baby doesn't pull his tail or act rough in any way.
frank seems to know his boundaries and will move quickly out of the way whenever toys fly towards him.  we're always careful to make sure there's always someone to supervise when they're together, though.  thankfully, frank's nothing like the angry chihuahua 'arrested' by police recently!
frank loves the sun
we don't get much sun here in rainy old london.  but when we do, frank loves to bathe in it!  whenever frank sees the sun shining through the window in the morning, he'll be itching to get outside.  he doesn't usually like being on the leash, but he brings it to me in bed whenever we have even the slightest bit of morning sunshine!

Follow Famous Chihuahua on Istagram