"look mama, i'm famous!"
wiggles is a gorgeous blue chihuahua puppy from oahu (ewa beach), hawaii.   she is a bundle of joy and pure entertainment for her family, barbara and lionel lima, their two daughters, arianna and annalicia and their new grandson hezekiah from their oldest son nahoa.  everyone simply adores her loving and mischievous nature and her adorable apple-bottom that "wiggles" as she walks!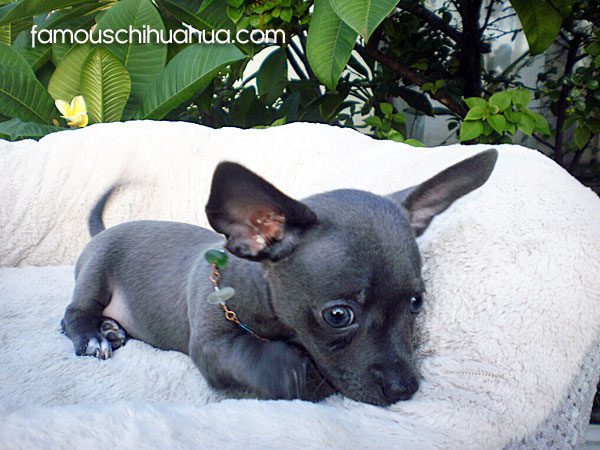 wiggles has two other gorgeous siblings from her litter, teddi bear, a girl with blue eyes and mugsie, a long haired boy also with blue eyes.  both of them are just as adorable as her!  check them out below – wiggles is there snoozing in the middle!  wiggles has her paw on mugsie and teddi bear is behind her!
congratulations barbara and lionel lima, your sweet wiggles is now officially a famous chihuahua!
think wiggles is super cute? then vote for him in our america's cutest famous chihuahua contest!
join the thousands of chihuahuas who have become famous!  submit your chihuahua here!
Follow Famous Chihuahua on Istagram