congratulations to daisy, the winner of the 2016 world's cutest famous chihuahua® contest!  she's featured in the september issue of  a dog's best friend magazine!
enter your e-mail at mybestdogmag.com NOW to gain instant access to the september 2016 edition to see daisy's feature and for the chance to WIN an awesome pet giveaway.
also featured is an informative article called, "what is a blue chihuahua?" written by nadia alterio, the editor and founder of famous chihuahua.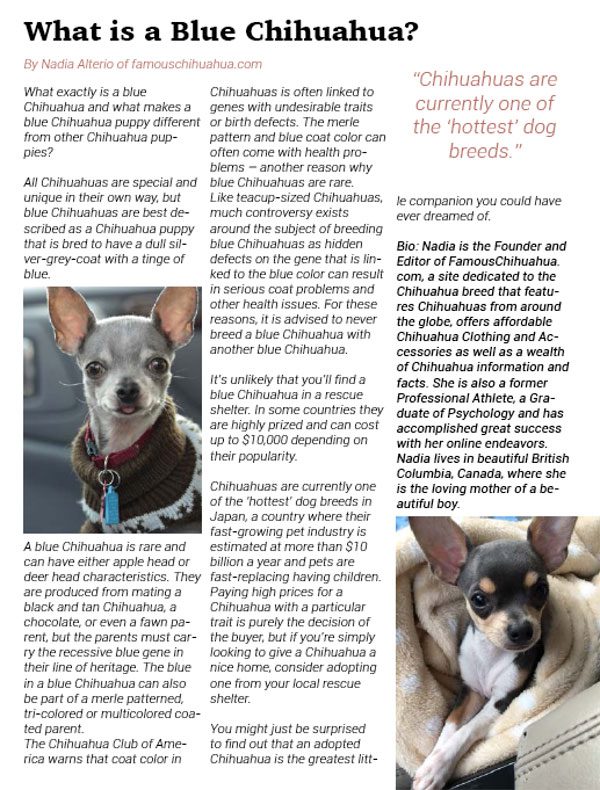 a dog's best friend magazine is a new monthly digital online magazine that's the ultimate lifestyle magazine for all dog lovers, pet parents and their companions.
it offers insight into all aspects of dog training, health and well being from some of the leading pet bloggers and influences in the pet industry today.   you get articles and topics other magazines shy away from.  there are awesome giveaways and discounts to be found in every edition.
currently they have 175,300 readers and the subscriber list just keeps growing as the word spreads that this phenomenal magazine is FREE!
we encourage you to subscribe now to receive all upcoming 2016 editions 100% FREE of charge.  get in ahead of the crowd before this fantastic magazine moves to a paid subscription!
"what are you waiting for?  visit a dog's best friend magazine today!"
Follow Famous Chihuahua on Istagram