"i'm mia and i'm a famous chihuahua fashion model! my mom buys all my fabulous dog clothes from the famous chihuahua store! …dig my legally blonde OMIGOD dog t-shirt that sparkles?"
dear famous chihuahua®
my sweet mia was born on sept.18, 2010 and is now approaching eight months old. she is just over three pounds, but thinks she's a 55 pound pit bull! she is my sweet baby. we do not have any children even though we have tried for years, but now mia certainly fills the void! i have never loved an animal like this before!
we got little mia when she was about 3.5 months old from a private, out-of-home chihuahua breeder who no longer breeds because her stud was hit by a car. she confessed to me that she was hoping i wouldn't pick mia from her litter of three girls as she was the most adorable.
mia loves to cuddle and sleeps with us in bed. at night, she anticipates us going upstairs and waits at the foot of the bed until we lift her in. perhaps it was a mistake to let her in our bed in the first place, but now i can't imagine not having her there, nor would she settle for her own!
mia loves apples! i can't walk by crunching one without her following me around. she also enjoys carrots, salmon and chicken strips, but for dinner she eats solid gold dog food. she loves to play with her mini tennis ball, but she will never return them to us, only to her bed. it's a real game!
even though we live in northern alberta, canada, where it's very chili, mia can't wait to get outside on her leash and "yell" at anyone that crosses our path! or anyone that is remotely within earshot! in obedience training, she kicks up her back legs continuously and her trainer laughs and says that she is showing her bossiness.
mia is just a happy little character that loves car rides and travels well. she is the love of our lives and life wouldn't be the same without her!
pawsitively yours,
kari and joe tedford from alberta, canada
p.s. we love your products, and i get excited waiting for a precious new outfit to appear in the mail. your prices are affordable and the shipping is timely! thank you and enjoy mia's famous chihuahua photo shoot pictures below!
mia does the catwalk in her highland tartan dog coat that comes with a matching hat and lead!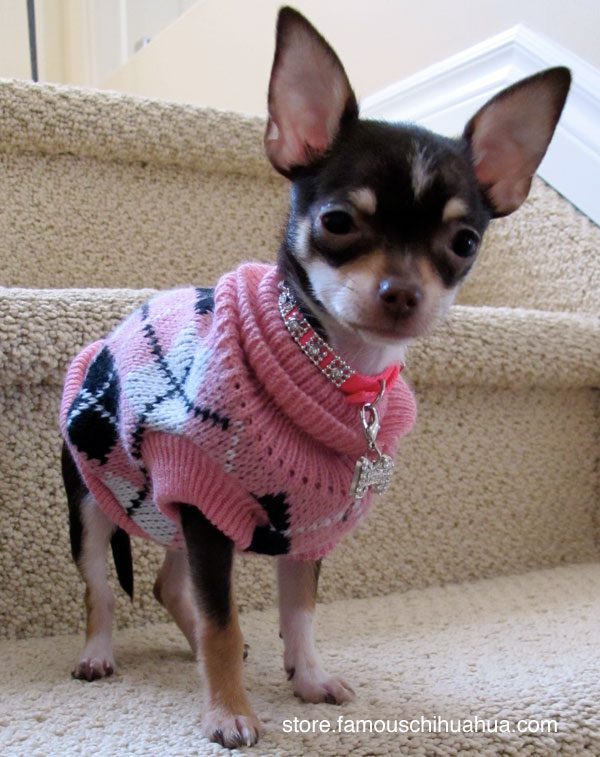 look at glamorous little me in my pink and black argyle knitted dog sweater! ..it's on sale!
oh my goddie, i'm just so adorable in my new sweater! did i mention it was on sale? whoo hoo!
did you know you can custom design your own dog hoodies at the famous chihuahua store?
is your chihuahua the next famous chihauhua fashion model? send us pictures of your chihuahua wearing clothing from the famous chihuahua online store and they too can be a famous chihuahua fashion model!
submit your chihuahua picture! ..be sure to like the funnest chihuahua facebook page online
Follow Famous Chihuahua on Istagram