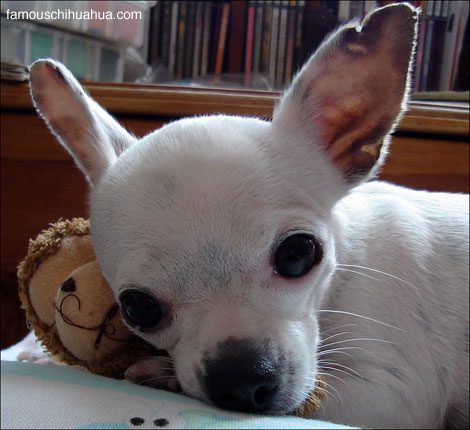 hello famous chihuahua®
my name is carla and i'm the proud owner of a beautiful deerhead chihuahua named angel-caramelo. my sweet little angel is four years old and from a reputable chihuahua breeder in mexico.
angel enjoys eubanuba treats, loves to wear chihuahua clothes and sleeps with her stuffed monkey every night when she goes to bed as you see in the picture above. she gets a kick out of scaring our neighbor's border collie with her barking and she runs and hides when she knows it's bath time.
angel is very spoiled and knows she is the baby of the house. she has brought a lot of joy into our lives and we simply can't imagine life without our sweet little angel-carmelo.
sincerely,
carla from mexico
submit your chihuahua story and picture or post it to the famous chihuahua facebook fan page
Follow Famous Chihuahua on Istagram