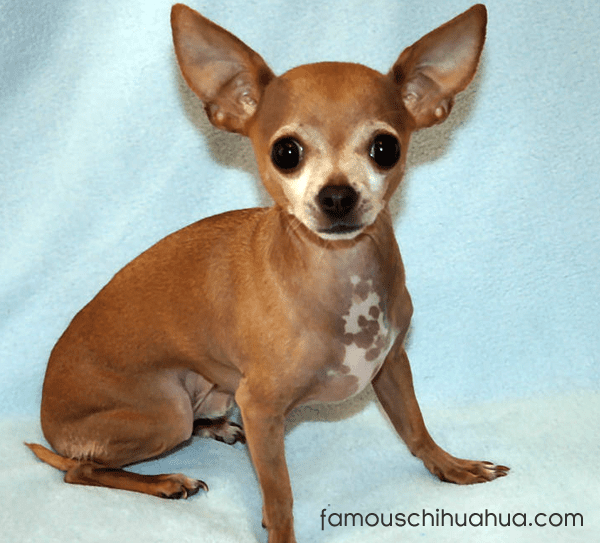 dear famous chihuahua®,
this is chiwi, our is 3 year old tanned, deerhead chihuahua who is turning 4 on the 4th of july! we got him from a chihuahua breeder known as classy chihuahuas. look how handsome he is!
chiwi has enriched our lives in every way! ..including waking us up for important noises like the garbage man coming around the block!
chiwi's favorite (and only food he eats) is cesar's sunrise food and mashed potatoes. he doesn't really care for treats, or other food. his favorite toy is this big long, bright red stuffed fox. he will run and jump catching it in midair, despite the fact that the toy is bigger than he is!
once when chiwi was waiting for me to come inside, he thought i was on the other side of the wall (he was facing the wall, and i was coming up behind him) and he kept howling and crying because he didn't know i was right there behind him. he didn't notice until i finally poked him and then he attacked me with love!
chiwi doesn't know how to do many chihuahua tricks because when he was a puppy he didn't "have time" to listen. he would run, then sleep, then go to the bathroom, then run and sleep again so now he has no clue what i'm talking about when i say "sit!" he does however know to look at you when you call his name so thats all we need!
chiwi is the first dog i have ever taken responsibility for and he inspired me to create the website chachachihuahua.com (for he is the mascot of course.) we live in the desert (aka, AZ, USA) and so chiwi stays inside most of the time because it's just too hot!
thank you for your fabulous site, it is the mecca for chihuahua lovers from around the globe!