famous chihuahua® is bringing sweet little dixie rose the chihuahua back to center stage! little dixie is now a happy and healthy 3 months old and her rise to super stardom has only just begun! take a look at little dixie performing live with country singing sensation, tracy lawrence!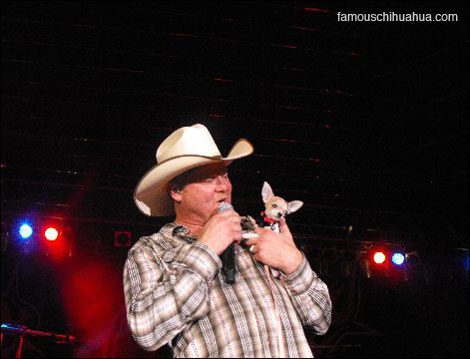 dixie's mommy tells us that it was a very proud moment for her to see little dixie on stage with her favorite male country singer. she has also told us that she's been feeling wonderful since little dixie started training to become her very own service dog!
vroom, vroom! …hello famous chihuahua!
my name is dixie rose and i am a 9 week old chihuahua puppy from the state of texas! mommy got me from the chihuahua breeder deborah wheeler of puppy luv kennel in kemp, texas and i love my new home!
mommy feeds me diamond and beniful puppy food and my favorite play toys are my stuffed pink bunny and my big orange teddy bear. she also carries me around in the front pocket of her coveralls where i feel so safe and secure that i fall asleep.
mommy says i am very dear and special to her because i helped her come out of a very trying time in her life when she was experiencing a major bout of depression after losing both her biological mom and step mom.
thank you famous chihuahua for this fabulous chihuahua site and for making me famous. you have made my mommy one happy woman!
pawsitively yours,
dixie rose, the chihuahua puppy from the state of texas
Follow Famous Chihuahua on Istagram