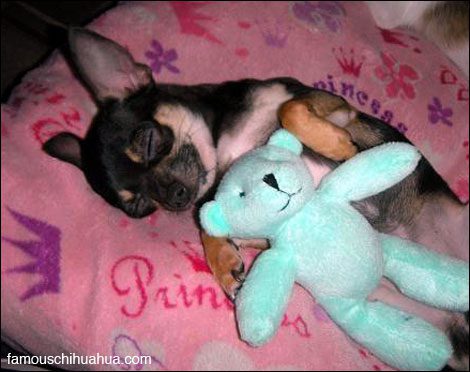 dear famous chihuahua®,
this little bundle of love is hannah the chihuahua. at 16 months old, little hannah came from an arkansas-based chihuahua breeder, but now lives in owensboro, kentucky. hannah loves to play chase, is good with children and is not intimidated by strangers, loud noise and sudden movement.
hannah is on the raw diet and will eat anything that won't eat her first! her favorite toys are her mr. bear or playing with athena, her 80 lb, 4 1/2 month old little 'big' sister english mastiff. hannah is fearless and thinks she's a big dog. when we brought athena home for the first time, hannah ran right up to greet her even though she was 60 lbs.
hannah has a toe fettish and loves to lick them! don't fall asleep around hannah because she will climb under the covers and lick your toes! .. and beware of her if you are barefoot and on the computer. she will hide under the computer desk and wait for an unsuspecting person to sit down just so she can lick their toes!
hannah prefers to lick toes and snuggle with mommy instead of performing tricks. she has several adorable chihuahua dog dresses and she will not go to bed without her mr. bear as you an see in the picture above.
hannah is not your typical chihuahua. she doesn't fall into the stereotype of the "shaky nervous ankle biter", instead she goes to my daughter's schools on a regular basis for show and tell, visits the local stores and even comes to walmart while in my purse.
hannah is like one of the kids in our family. she sleeps with us, goes on trips with us and even goes to the doctor with me. she isn't a yappy dog, rather she is quiet, loving and she always knows when one of us is feeling down, sad or needs doggy kisses to be cheered up.
little hannah is funny and full of character. both she and athena brighten up our lives every day. she has taught me to live for the moment, to please myself and never to "roll over" for anybody.
hannah has a huge heart wrapped in such a tiny little package and she is the perfect example of a famous chihuahua. loyal, bold, brave, and fun loving.
sincerely,
kimberly shrewsberry of owensboro, kentucky
Follow Famous Chihuahua on Istagram