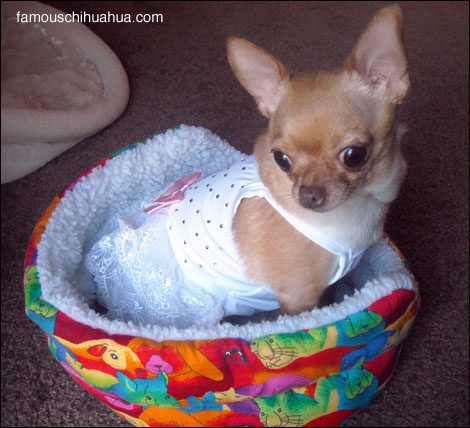 greetings famous chihuahua®!
this fabulous little chihuahua just full of personality is my little mini! she is 5 years old, weighs 4 lbs and the beautiful chihuahua puppy of a reputable chihuahua breeder in minnesota.
i named her mini because she was so tiny (mini muffin, danish etc.) when i got her. she loves chicken, carrots and apples, and her favorite dog plush toy is a very small elephant head that we sleep with every night. i have spent the last 3 years trying to find another toy like it but with no luck, god forbid she loses it!
every night we sleep together and often during the night she wakes me up with her kisses, who could get mad? i just go back to sleep. in the morning though, before we go downstairs, she hides her elephant toy and then gets it and brings it into the bed with us at night. i even had a special ramp made for my sweet mini just so she can get onto the bed safely.
mini is the love of my life, along with my other two chihuahuas.  i work hard, so when i come home to all the kisses, it's the best feeling in the world!
warmest regards,
francine anttanasio of new jersey
submit your chihuahua story and picture or post it to the famous chihuahua facebook fan page!
Follow Famous Chihuahua on Istagram