congratulations to lana elswick and her chihuahua boo boo who were on the regis and kelly show! boo boo was once again officially declared the world's smallest chihuahua according to the world book of guinness records! "viva la chihuahua!"
the world's tallest dog and the world's smallest dog side by side. boo-boo is smaller than george's head! now that's tiny! we can't help but notice how happy little boo boo looks from all the attention. too cute for words!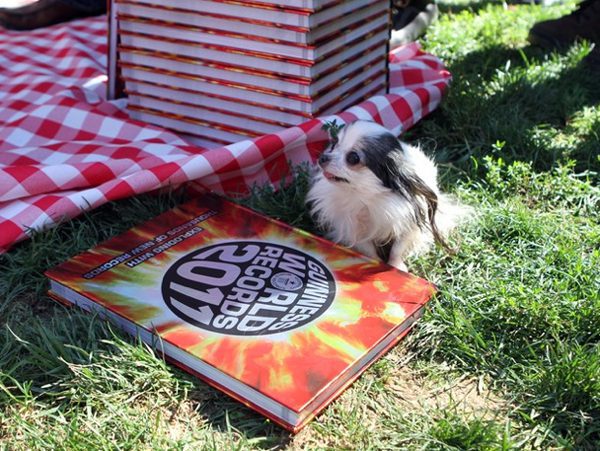 boo-boo poses next to the 2011 world guinness book she appears in. be sure to get your copy of this edition! photo credits DNAinfo.com/della hasselle.
be sure to pick up your copy of the guinness world records 2011! available now in stores and online at www.guinnessworldrecords.com
here is boo boo the chihuahua's amazing story …
a tiny chihuahua has taken a giant leap into history after the guinness book of world records officially named it the new title holder for world's smallest dog.
at just four inches tall, "boo-boo," a diminutive dog in raceland, ky., just edged out another chihuahua to win the crown.
lana elswick says boo-boo was born the size of her thumb. elswick says from the beginning she knew her dog was special, but it wasn't until a few weeks ago that she knew just how special.
"there was this contest going on between two little dogs, but i knew i had the smallest one. but, i just had to wait until i had my certificate to show everyone," elswick says.
the guinness book now considers the full-grown though petite pet the smallest dog in the world, nearly an inch smaller than the previous record holder.
boo boo in adorable chihuahua clothes poses pretty next to coke bottle and a purse. she's tiny!
elswick says boo-boo lives a life of luxury now, eating a quality meal while getting plenty of playtime in between.
"she doesn't like dog food, so i fix her ground turkey and put peas in it. that's her breakfast," she says. "and then she likes to lay in her bed and sleep after she eats. and they she likes to get up and play with her toys."
according to the guinness web site, in comparison, the world's tallest dog is gibson, a harlequin great dane, who measured 42.2 inches tall on aug. 31, 2004 and is owned by sandy hall of grass valley, calif.
this article was first published 3 years ago, but famous chihuahua is happy to welcome boo boo and her owner lana elswick to the famous chihuahua facebook community for chihuahua owners.
you may also remember boo boo and lana when they made an appearance in an episode on the oprah winfrey show that featured "amazing animals" in november of 2008.
visit boo boo and lana on the web at www.bitesizebooboo.com
related: princess, the smallest teacup chihuahua in the world?
my name is gizelle morales and i would like to introduce the world to my teacup chihuahua princess. i believe my princess is the smallest dog in the world, weighing in at only 1.8 pounds. she is as big as a dollar bill and smaller than a bottled water…
what is the difference between an apple head and a deer head chihuahua?
apple head and deer head chihuahua names
post a free chihuahua classified ad to promote a chihuahua rescue site, clubs, meet-up groups and pet services
tiny dog clothing for apple head and deer head chihuahuas
source: wcbstv.com/watercooler/worlds.smallest.dog.2.312710.html
Follow Famous Chihuahua on Istagram