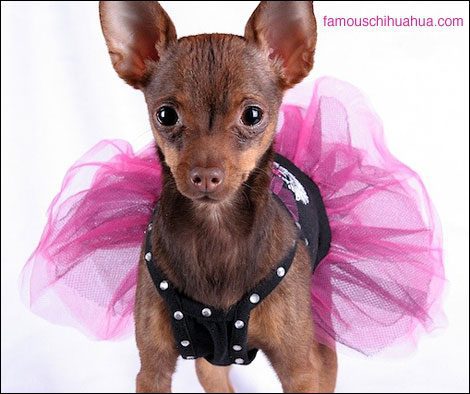 introducing coco chanel the chihuahua!
this little 1 year old fashion diva loves to dress up in chihuahua clothes and is a chihuahua supermodel in the making!
she eats everything and loves to chew on my jimmy choo shoes! i got her from a reputable chihuahua breeder and it is because of her that i have grown to love and appreciate the chihuahua dog breed.
coco chanel knows how to sit, stay and she has a silly habit of hopping around the bath tub when we are in the shower. it's the cutest thing!
'paws'-i-tively yours,
melissa trajano of portland oregan
submit your chihuahua story and picture or post it to the famous chihuahua facebook fan page!
Follow Famous Chihuahua on Istagram