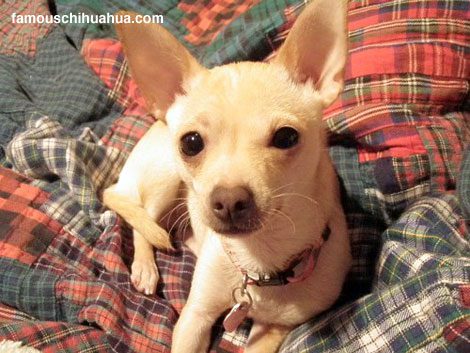 dear famous chihuahua®.
i would like you to meet my little miracle chihuahua olive. she is 10 months old, weighs 5 pounds and is a smooth-coat, deer head chihuahua with a shiny tan coat!
olive loves her "little champion" dog food made by pedigree, especially the beef casserole flavor 🙂 she gets lots of "cookies" when she is good, or when she goes #2 outside.cookies are her favorite snack, so she takes full advantage of being well behaved when she knows there is a cookie involved! she can sit and shake your hand, but if you don't have a cookie ready for her, she might not be willing to participate!
my little princess has more toys than most kids. a lot of her toys have been sewn back together or re-stuffed because she loves to tear them apart. she will usually start with the eyes and rip those off, then go for the ears… tail… anything she can destroy, she will! her favorite toy is a white stuffed pig. she is working on destroying her 4th one right now.
i got olive from a chihuahua breeder. i wasn't really looking for a puppy, but a woman i worked with had one last chihuahua pup that needed a home and the moment i saw olive, it was love at first sight and i had to have her. she has been my best friend since the moment i became her mom and she has been a blessing.
olive is very protective of me and will often bark and show her "mohawk" when she hears someone other than me enter the house. she has a lot of funny little quirks to her personality and loves to play bite my husband's nose, especially when he isn't expecting it! she also loves to play fetch with her mini tennis balls, although after she is done fetching the ball, she will always drop it 3 feet in front of me rather than bring it all the way back, i guess she is a pup that plays by her own rules!
there was a point in time where i came very close to losing my olive. one night back in november, while my husband was outside working on the lawn, olive must have seen a squirrel or a bunny and chased it through a small opening in our fence. and from there… she was gone
we looked everywhere, up and down every street in our neighborhood, we made fliers, stopped at peoples houses, and no one had seen her. she was gone, it was like she had just disappeared without a trace. after hours and hours of searching for her, with no evidence of where she went, i was heartbroken and devastated. i thought i lost her forever and felt like a piece of me was missing. it got dark and cold outside and my biggest fear was not knowing if she was safe.
the next day, someone who had seen our flier called and said he had hit olive on the highway the previous evening. he had said that he stopped his vehicle to see if she was still alive and when he approached her, she bit him and then ran away! he told us the last location he had seen her and we stopped at every single house in that area, desperate for some type of clue of where she might be.
after several "sorry, i haven't seen her" answers, we continued searching, but with no luck. it was going on to 24 hours since she had gone missing and we weren't getting anywhere with our search. until finally, my husband's phone rang with the news that someone had found her.
she was scared, and hiding in the trees in one of the back yards of the houses i had stopped at. we immediately went to find her and the moment she saw me, she ran towards me and i couldn't do anything but cry and be happy that she was safe and out of danger.
still, olive's journey was far from over. she was covered in dirt and blood. she was hurt very bad and its a miracle that she survived out there all night and all the next day. we took her to the emergency vet where she had to have emergency surgery to repair a diaphragmatic hernia.
she also suffered a broken pelvis and a lot of road rash from being hit by a car. after 4 days in the hospital, olive was released and has been on the road to recovery since then! after about a week, she was back to her normal self and as spunky as ever! we had to keep her on bed rest and crated as often as possible for a month after her accident so her pelvis would heal correctly.
today olive is fully recovered and doesn't even walk with a limp! i'm sure she will struggle with arthritis in the future, but right now, she is a healthy little chihuahua puppy with a lot of energy!
i am reminded everyday of how special my sweet little olive is, and how much of a miracle it was that she survived what she went through. she is a tough little cookie, a fighter and an inspiration to all!
sincerely,
casey rice and olive of schoolcraft, michigan
Follow Famous Chihuahua on Istagram