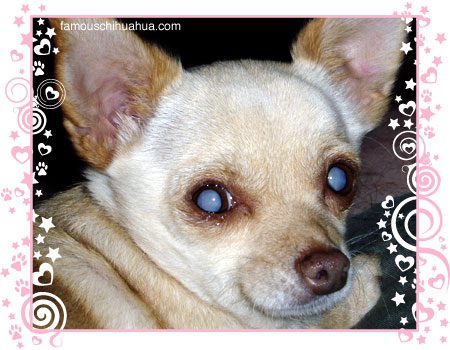 muffin the blind chihuahua is a testament to the truth that pets with disabilities make amazing companions. little muffin became blind from severe cataracts which led to retinal detachment. since this picture was taken, muffin has undergone surgery to remove both of eyes.
muffin's family loves her dearly. her mommy was happy to share with us muffin's  awe-inspiring story and what makes muffin the blind chihuahua so precious.
"our little girl muffin is a huge blessing to our lives. we adopted her from the SPCA when she was about 5 or 6 years old. she was completely blind from severe cataracts and was found wondering the streets at night by someone who then brought her to the SPCA. since then she has found her way into our hearts!
muffin is an absolutely amazing rescue chihuahua. we believe she is a happier chihuahua post-surgery because of all the discomfort she was experiencing prior to. since the day we brought her home, she has been able to find her way around the house and can walk all throughout the backyard and then find her way back to our sliding glass door.
knowing little about her back ground, we love and care for her the best we can. she is wonderful with children and isn't afraid of other dogs. she only shakes when we go to the vet and during car rides. she loves to play with your hand and sometimes with her tail.
muffin's favorite foods is chicken and fortune cookies. when she hears the refrigerator open she strolls into the kitchen. she knows this is where the chicken is! when muffin has to go potty, she will walk to the sliding door to let us know.
since both of muffins eyes are sewn shut, she often looks as if she is sleeping. we love muffin so much because of how much she has enriched our lives. she is so special that you forget that she has no eyes. she is particularly  fond of her daddy and is definitely daddy's little girl.
muffin comes to work with me and everyone at the office loves her. she sleeps in her bed next to my desk like a good little girl. she doesn't like to be left alone all day as she would much rather be around us – the people who love her unconditionally. we simply can't imagine our lives without her!"
all chihuahuas are precious, even the ones with a disability. the message is simple. if you love chihuahuas, adopt one. read another amazing chihuahua story – put your paws here! samson the miracle chihuahua born without eyes
Follow Famous Chihuahua on Istagram