"congratulations to juno, the winner of the 2012 famous chihuahua® christmas contest!"
juno's mommy, deborah young, proudly submitted this fabulous picture of juno, which was voted the best picture in our 2012 christmas chihuahua picture contest poll!
juno is a chihuahua on a mission to make the world a better place and is accomplishing great things while doing so!  as influential animal rights supporters, she and her mommy speak out against animal abuse, neglect and abandonment.
the two of them are also educators on the importance of spaying and neutering your pets and together they support and participate in many charity events.  juno also visits children in hospitals, the elderly and assisted living facilities regularly and is the perfect example a little dog who is making this world a better place one smile at a time!
in celebration of her new stardom, juno has won a gift box filled with chihuahua clothes and accessories and a fabulous famous chihuahua® dog t-shirt that she can wear with pride!  her mommy will receive a copy of the 2013 famous chihuahua calendar featuring 12 of the world's cutest famous chihuahuas and juno will have her picture featured for the month of december in the 2014 famous chihuahua® calendar!
juno and her mommy will also receive their choice of a gorgeous sparkling dog charm that exquisitely unique as they can also be attached to necklaces, a purse or a dog collar and are made from stunning shimmering crystal and swarovski pearls!  they will also receive a fabulous famous chihuahua® car decal that can also be put on a laptop!
we are very pleased to announce that teddy placed runner up for the most votes and will receive his very own famous chihuahua® dog t-shirt that he too can wear with pride!  teddy was rescued from the national mill dog rescue and just celebrated his first christmas in freedom.  now not only is he famous, but he is also a national spokesdog against puppy mills!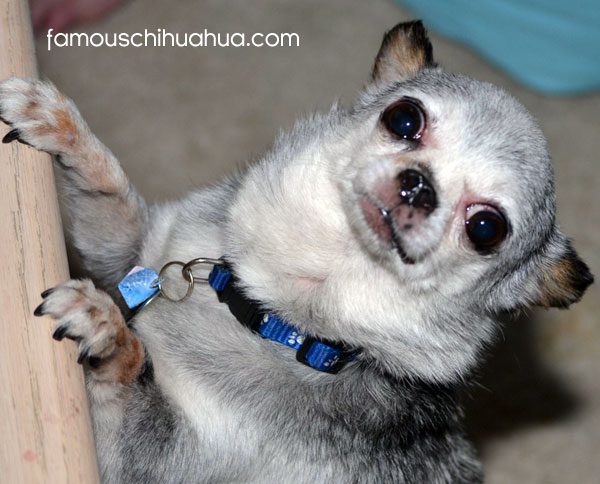 famous chihuahua would like to thank everyone who submitted their pictures and invites you all to stay tuned for the announcement of our next fun and fabulous chihuahua picture contest!
related!  harley wins the 2011 famous chihuahua christmas picture contest!
Follow Famous Chihuahua on Istagram