your winners, lollipop and yum yum as santa and mrs. claus!
congratulations to lollipop and yum yum's mommy teresa costanzo from highland mills, new york!  we are thrilled to inform her that lollipop and yum yum's christmas picture was the favorite in our voting poll for the 2013 famous chihuahua christmas picture contest!
what makes lollipop and yum yum's christmas picture so special?
the outfits and display for this photo was done for a rescue charity event and were hand made by teresa!  teresa is a huge supporter of rescue charities and has a wonderful facebook page that promotes animal rescue and features lollipop and yum yum wearing cute chihuahua clothes!
and get this, lollipop is a rescue chihuahua! she was found abandoned at a construction site in texas and when her previous owners were contacted, they told the vet to put her down as they didn't want to pay for the double hernia surgery she needed.  the charity that rescued lollipop decided to run a fundraiser on facebook and raised the money for her surgery.  after her recovery, they posted her adoption picture and teresa fell in love with little lollipop at first glance!  she knew she just had to have her … and the rest is history!
both lollipop and yum yum bring such joy and happiness into teresa's life and the lives of all their facebook fans.  their adorable pictures always bring cheer to everyone who views them, not to mention the fact that they are so dang cute, you just can't help but fall in love with them!
nonetheless, when it comes right down to it, these two little darlings are on a mission to fund raise as much as possible to help animals in need.  all the events they attend promote and help animal rescue and for this, we applaud teresa for doing such an incredible job of making a difference in this world filled with economic hardship and animal neglect.
so what are you waiting for?  like lollipop and yum yum on facebook!
what has lollipop and yum yum won? 
lollipop and yum yum will each receive a customized luxury gift box hamper for dogs from the famous chihuahua store filled with adorable chihuahua clothes and accessories and an authentic famous chihuahua® dog t shirt they can wear with pride.
what else? 
a gorgeous snuggle puppy blanket from the award winning snugglepetproducts.com, a copy of the award winning family approved book, the legend of the smiling chihuahua, a fabulous bling dog charm, a famous chihuahua® car decal, and dog food from petbrosia.com
this year's contest has defintiely been about the tinys!  both our first and second runners up could be the next world's smallest dog!
and here are the 1rst and 2nd runners up as voted on by our staff and our wonderful fans
baby jane sporting her santa hat!  … can you say "uber cute!"
1rst runner up:
congratulations kassiann from austin, texis, your precious baby jane is our 1rst runner up!
 you know what they say … "the best things in life come in small packages!"
2nd runner up:
congratulations teresa from central texas!  your teeny tiny jade is our 2nd runner up!
and what has baby jane and baby jade won?
they will each receive a bottle of maqnifiscent grooming & finishing splash, a non-toxic, paraben-free multipurpose unisex formula and an organic odor neutralizing shampoo bar as well as a copy of the award winning family approved book, the legend of the smiling chihuahua.
famous chihuahua would like to thank everyone who submitted their chihuahua for our contest.  with over 3600 entries, it made things super exciting!  we found that if we run our contest into january, more people took the time to participate and enjoy all the fun instead of missing out on it because of the hustle and bustle of the holiday season.
we want you to know how much your appreciation for our site means to us and we will continue to do our best to keep the site fun, furry and fabulous as well as informative.
if your chihuahua didn't win or you know your chihuahua is destined for super stardom and you want to see them appear on our site, then click here to submit your chihuahua picture!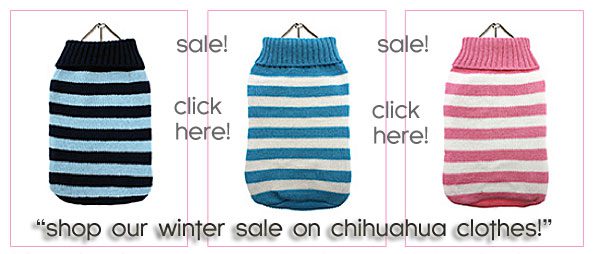 is your chihuahua famous in your eyes?  click here to submit their picture!
get ready for our next contest!  it's going to be huge!
Follow Famous Chihuahua on Istagram