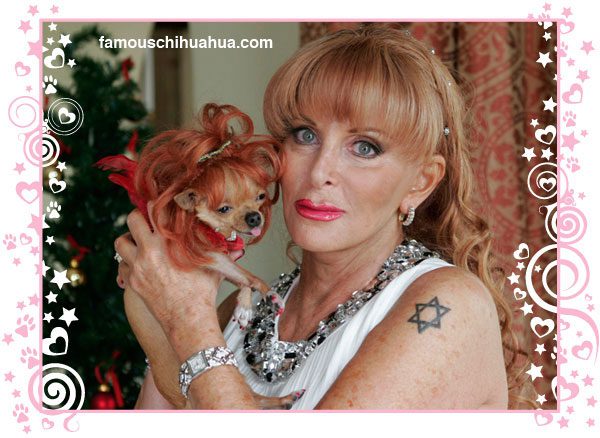 update! may 27th, 2012


gail posner's chihuahua's miami mansion sells for $8.4 million!

every dog has its day, and last friday clearly belonged to a chihuahua named conchita: a miami beach mansion bequeathed to the pampered pup and 2 others sold for $8.4 million. full story
original article from june 2010
chihuahuas are the new black – from "beverly hills chihuahua" to mickey rourke's golden globe awards acceptance speech and now let famous chihuahua® introduce you to … ms. conchita "the boss" posner.
yes, we have heard of over-the-top dog treatment, but little ms. conchita posner is setting the new standard.
hanging out at the same millionaire "bone bar" that trouble helmsley does (the white maltese that received $12 million of leona helmsley's riches), if there was "the simple life" for dogs, little conchita would be paris hilton and trouble helmsley would be nicole richie.
conchita's mother gail posner, socialite and daughter to the late business tycoon victor posner, stops at nothing to ensure "the boss", who weighs 1.4 oz, is happy.
so what's a daily routine like for conchita the chihuahua?
conchita the chihuahua has a full time staff, her own bedroom in posner's sunset island mansion; a four-season wardrobe filled with fabulous chihuahua clothing and accessories; a dog wig made exclusively for her by ruth regina, the former make-up artist to the beatles and marilyn monroe and gems like her recent christmas gift, a tiffany's gold and diamond necklace with a ring which serves as her "evening collar".
little conchita travels everywhere with gail which includes daily lunches at the shore club's ago, here she keeps her physique trim with grilled chicken breast carefully placed on a napkin to absorb any excess grease. it doesn't end there. "the boss" will also get a range rover of her choice as posner feels that her chauffeured escalade is no longer big enough for just the two of them.
posner is a huge philanthropist and recently donated $25,000 to a local humane society in support of pro-life for sheltered animals, one of many charities that posner has donated to. posner definitely spoils her tiny teacup-sized chihuahua conchita, but she also gives back to charity and that in our books makes her a wonderful person.
famous chihuahua would like to thank alexandra kann for sharing this information with us and gail posner for her continued support to charities for sheltered animals.
there are thousands of sheltered chihuahuas that need homes. if you plan to get one, please consider adoption from a chihuahua rescue organization near you.
related stories: sandra bullock rescues two-legged chihuahua!
actress katherine heigl rescues homeless chihuahuas!
new yorkers rescue chihuahuas from californian coast
chihuahua rescue operation 'project flying chihuahua'
hollywood celebs love for chihuahuas creates crisis
amazing world famous chihuahua wheely willy dies
the miraculous story of charity the chihuahua
update: famous chihuahua sends their deepest condolences to the posner family for the recent passing of ms. gail posner in march 2010. this feature was first published in february 2009.
media and press inquiries: please contact the editor of famous chihuahua for further information on unreleased details related to this feature
exactly who is gail posner? gail posner and conchita in the news
miami millionaire leaves $3 mil. inheritance to chihuahua
the prized pup of miami millionaire, gail posner, may be facing the end of her luxurious lifestyle. talk about a pampered pooch,the dog has her own bedroom, bathroom, a diamond necklace, and even a $12,000 summer wardrobe…
 another estate goes to the dogs
another estate is going to the dogs! our summer student forwarded me a globe and mail article discussing the provisions that the late heiress gail posner made for the benefit of her fabulously famous chihuahua conchita..
florida. estate battle features $3M for pet chihuahua
this undated image provided by famous chihuahua®, shows gail posner and chonchita, one of posner's three chihuahuas that were left a $3 million trust when posner died. posner's only surviving child, 46-year-old brett carr, is challenging her will contending that posner was coerced into changing her will by several employees while she was suffering from cancer and drug addiction…
heiress gail posner's dogs inherit a fortune
you may remember the debacle over the $12M inheritance of leona helmsley's dog two years ago. in the end, the little maltese ended up with $2M, while the rest went to charity and family. now, there's conchita and her two canine pals. they just inherited $3M from the estate of heiress gail posner, as well as her $8.3M mansion in miami. her staff has also been left a healthy sum and permission to live in the mansion, so long as they take care of the dogs at the same level of luxury they received while posner was alive. with a full-time staff, plenty of jewels, and even a custom designer wig, conchita the chihuahua can easily be considered one of the worlds most spoiled dogs…
heiress leaves big fortune to tiny dog
gail posner's chihuahua conchita has been left a $3 million trust and a mansion (abc news)
video heiress leaves millions to dogs, staff
in an exclusive interview, the son of a florida heiress tells TODAY's matt lauer he thinks his mother was manipulated into leaving millions of dollars in cash and property to her pets and household staff.
son: aides made heiress leave millions to dogs
he says video proves that gail posner was manipulated by her staff
gail posner's dog conchita receives dead heiress' massive inheritance
the new york post reports that gail posner has left her $8.3 million miami mansion and a $3 million trust fund to her beloved pooches, including one chihuahua named conchita…
world's most spoiled dogs get $3 million trust fund from deceased heiress, son gets $1 million (new york daily news)
who says diamonds can't be a dog's best friend? conchita, a pet chihuahua, and two other pooches were left a $3 million trust fund and miami beach mansion by their recently deceased owner, heiress gail posner.
socialite gail posner's secret funeral
gail posner, one of the four children of the infamous late businessman victor posner, passed away last week at the age of 67. she was reportedly battling cancer…
little dog, large estate
chihuahua at center of fight over heiress gail posner's will…
world's most spoiled dog now $3 million richer
a miami heiress passes away and bequeaths millions to her chihuahua…
heiress' big $$$ goes to the dogs (new york post)
gail posner, the daughter of infamous corporate-takeover king victor posner, has bequeathed her seven-bedroom, $8.3 million miami mansion and a $3 million trust fund to her pampered pooch..
son's fury as heiress mother leaves £8m to her dogs, £17m to her housekeepers… and just £650,000 to him
a wealthy heiress has sparked a bitter legal row after leaving £8million of her estate to her beloved pet dogs…
die lady, der chihuahua und das millionenerbe (international news)
wall-street-erbin gail posner hat ihre nachfahren gut versorgt. ihrem sohn hinterließ sie eine million dollar – ihr hund allerdings bekam dreimal so viel plus eine luxusvilla. das sah der sohn nicht gern. er zog vor gericht…
millonaria excéntrica le deja toda su fortuna a una perra chihuahua (international news)
la mascota llamada conchita heredó una mansión valorada en 8,3 millones de dólares en miami beach y un fondo de 3 millones de dólares. el hijo de la mujer fallecida está furioso…
shop for cute chihuahua clothing and accessories at bargain prices!
Follow Famous Chihuahua on Istagram